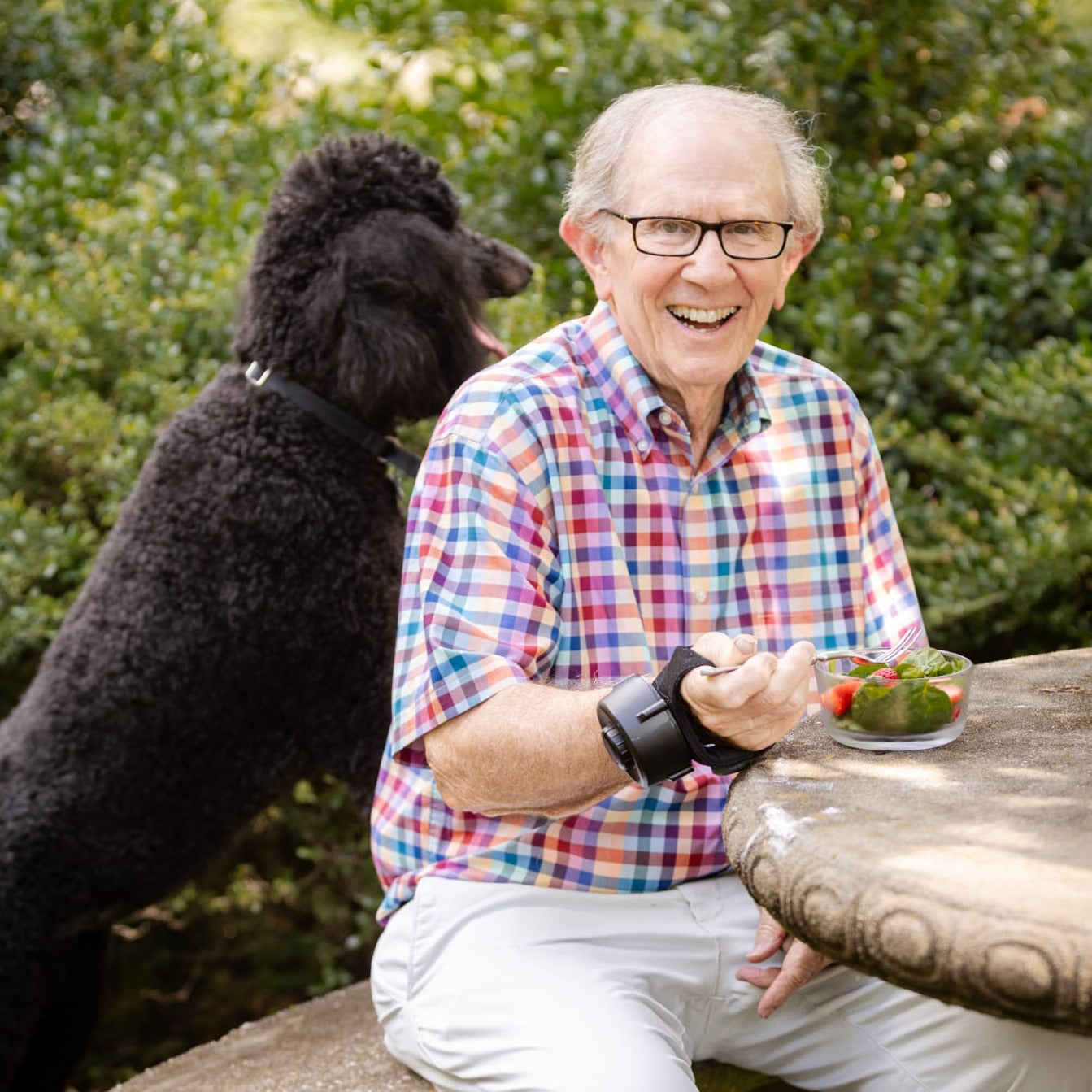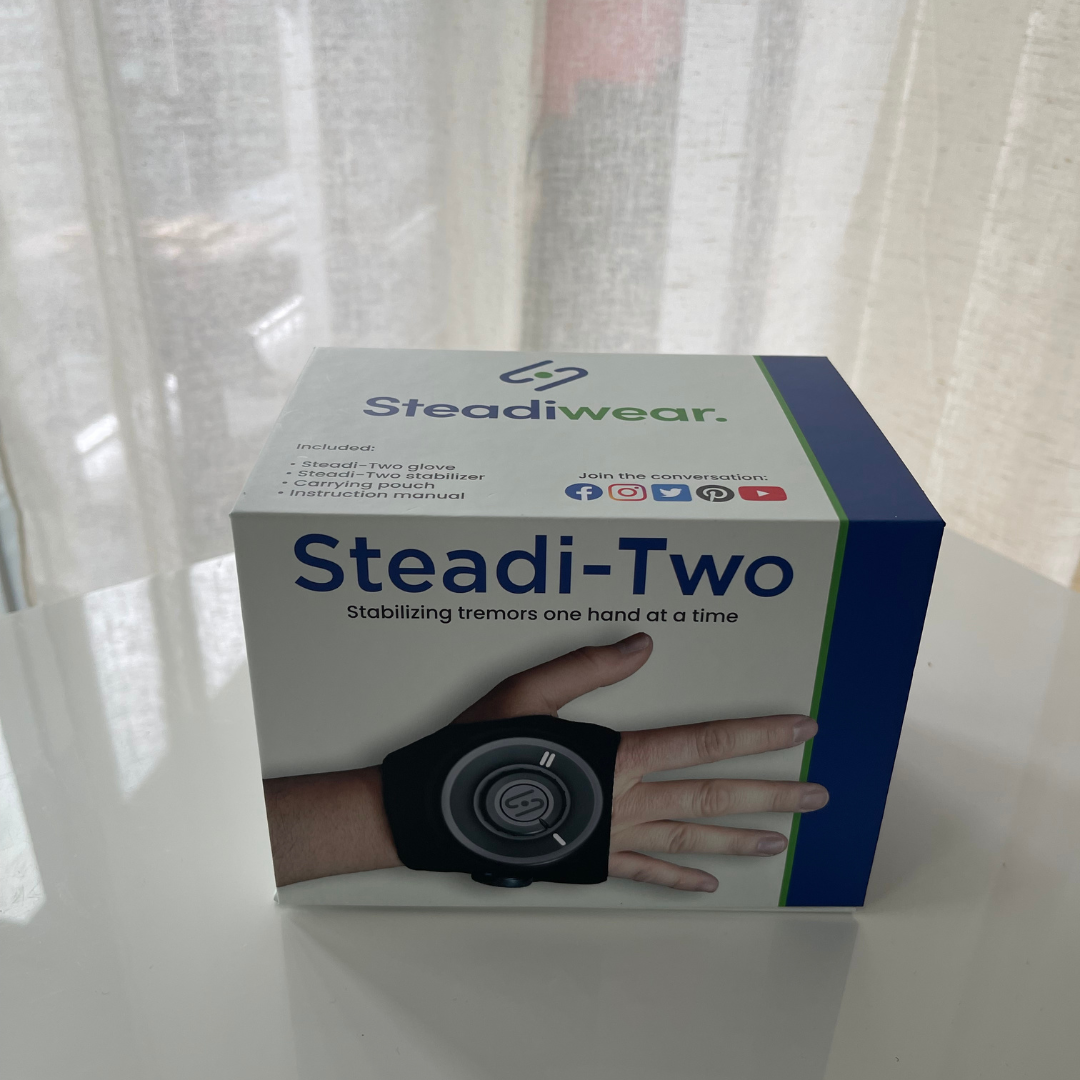 Pre-Order Steadi-Two: Tremor Reducing Glove
Pre-order now and receive your product by December 2023. Reserve yours today!

Just in time for christmas 🎄
The Steadi-Two is a ground-breaking glove designed to significantly reduce your hand tremor in Essential tremor.
Steadi-Two key features:
Provides INSTANT stability to your tremor.

NO batteries or charging required.

Lightweight: The device weighs under 1lb.

Flexible payments starting at $58/month only - Learn more about our payment options at the checkout page.
Return Policy: If the Steadi-Two isn't right for you, return it within 30 days for a full refund.
The Steadi-Two could be covered by you US Veteran Affairs benefits. Speak to your VA Physician or Therapist about the Steadi-Two and that is available through Pisces Health Solutions, VA Government Distributor.
Our Essential Tremor Glove is designed to provide comfort and support to those experiencing hand tremors. To ensure you get the most out of your glove, please follow the instructions below.
How to Wear:
Loosen the closure knob by pulling it upwards until you hear a "click".
Slide your hand into the glove.
Tighten the glove by turning the closure knob in a clockwise direction until it feels comfortable.
Attach Stabilizer:
Align the bottom center of the stabilizer unit with the glove magnet.
Bring the stabilizer closer to the glove and it will magnetically attach itself.
We recommend using the stabilizer for additional support, but it's not necessary for the glove to function properly.
With these simple steps, you'll be able to wear the Essential Tremor Glove comfortably and experience a steady hand. Our hand tremor device is designed to improve your quality of life and we hope it helps you in your daily activities.
Our users have shared their experiences with Steadi-Two, highlighting its effectiveness, ease of use, and the significant relief it brings to their lives.
Testimonials
I have just spent a month with the new Steadi-Two glove and I am delighted. It is light, very effective, easy to put on and take off and I could wear it for hours with no problem.
Trying to coordinate a Steady hand with an unsteady hand is really difficult. it requires you to think about how you are going to harmonize your hands. The Steadi-Two made this easier.
The Steadi-Two has really helped her. Anything that helps to reduce her tremor makes her feel better about herself, and that makes me feel better.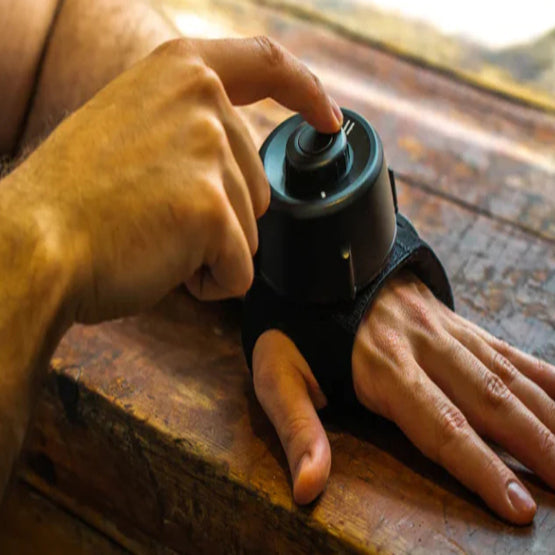 Product Technical Details
Our revolutionary Steadi Two glove provides unmatched stability and support with a lightweight device that adapts to your essential tremor.
Our proprietary magnetic vibration damping technology supplies added comfort while allowing separate components to be washed whenever needed - all without needing any batteries or charging.
Give yourself some relief and try out the fantastic benefits of using the FDA registered Steadi-Two risk-free!
Product Return & Shipping Info
Steadiwear's gloves provide the perfect solution for those living with essential tremors.
Our hassle-free return policy offers a full refund within 30 days, and we offer free shipping so you can quickly benefit from our high-quality hand tremor devices. International customers: please get in touch to learn more about delivery options outside of the US & Canada via our email -info@steadiwear.com
Don't hear from us... hear it from real life users
The Best Treatment for Essential Tremor
The Steadi-Two Glove
The Steadi-Two glove benefits 2/3 tremor patients according to real world evidence with 1000+ users.
Safety & Certifications
Our Essential Tremor Glove has been approved by the FDA and Health Canada, demonstrating our commitment to meeting the highest quality standards. The glove is specifically designed to provide a steady hand for people with hand tremors, helping them perform daily activities with ease and improving their overall quality of life.
Product Warranty or Guarantee
Steadiwear's essential tremor device, the Steadi Two glove, provides relief and steady hands for those with essential tremors. With a one-year warranty plus our 30-day hassle-free return policy, you can try our product risk-free.
If you're looking to take control of your hand tremor symptoms - try reliable Steadi Two glove from Steadiwear!
The Steadi-Twois a revolutionary assistive device that reduces your hand tremor.
It is based on proven vibration absorber technology to stabilize buildings against earthquakes. Like a see-saw, you would see in a park, the vibration disk moves in the opposite direction to your tremor, providing stability.
The Steadi-Two comes in 2 sizes, Small and Large. Click here to view the sizing chart. If your device does not fit well, please email us to return the glove component, and we will replace it with your required size.
We are working towards getting the Steadi-Two included in insurance plans. Unfortunately, we are not able to accept insurance for purchases just yet. For now, we encourage you to submit your receipt to your insurance providers as we have seen positive results on a case-by case basis.
To return your Steadi-Two glove for a full refund, please do the following:
Email us at info@steadiwear.com to request an RMA (return merchandise authorization) within 30 days from when you first received the product as determined by the tracking information.
Once instructions have been conveyed, return the fully-functional product to us in its original packaging with all components. The return must be postmarked within 14 days of when the RMA was issued. Return Shipping will be covered by Steadiwear Inc. If returned within the 30-day trial period only.All items returned must have an RMA number. Returns without an RMA number may be returned to the sender at their cost.